The location
Located on the river L´Horn, the 6000 sqm. of this beautiful location unvails
its ancient secrets. A 14 th century mill; including a number of renovated buildings,
is quietly located by a pond and surrounded by magnificent countryside.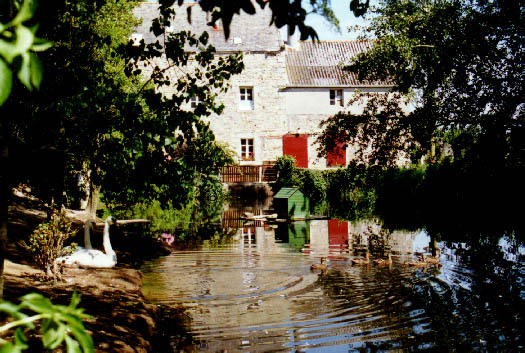 In 1994 we started the restoration of the mill, awakening it from a 15 year slumber.
We began by freeing the site of brambles and lieue, reorganized the garden and
renovated the annex buildings into vacation apartments. Each lodging can
house up to 6 people.
We live surrounded by animals: our dog , the cat, the horse and the pony, swans,
geese, chickens and ducks........fascinating for children!!
The "Moulin de Kerellec" proposes activities such as Ping-Pong, badminton,
volleyball and boat promenades. Bicycles are also available.